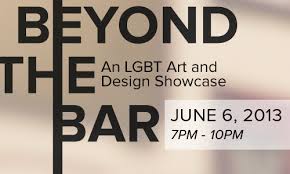 Ponder Consulting is pleased to announce their inclusion in the 3rd annual Beyond The Bar LGBT Art Showcase.
The top LGBT artists in the Metro Detroit area have been chosen to be showcased at Beyond The Bar, the premier Motor City Pride Kickoff Event sponsored by AIGA Detroit This represents the shows 3rd year which has grown to become the largest LGBT art show in the country and features the most outstanding art from the LGBT community including websites, logos, photography, painting and sculpture.
Ponder Consulting is pleased to announce their inclusion in this. The work was chosen by a committee made up of artists and design professionals and was chosen based on its concepts/subject, impact, process and aesthetics. Ponder Consulting submitted their work and was excited to learn that the website www.barbarapayton.com, designed and built by Harmonie Ponder, was chosen to be showcased this Thursday at the opening gala.
The event, which begins at 7 pm at the Start Gallery in Detroit, offers visitors the opportunity to enjoy the amazing art being offered by the Metro Detroit LGBT community while enjoying delicious appetizers, beer and wine as well as music by DJ Lena and a silent auction to benefit the Ruth Ellis Center. A $5 donation is suggested. Attendees will also have the opportunity to vote for their favorite piece in the show with top vote getters being displayed for the rest of the Motor City Pride Weekend. A link to the event can be found here:
https://www.facebook.com/events/148581218649663/ or http://detroit.aiga.org/event/beyond-the-bar-2013-an-lgbt-art-and-design-showcase-2/
We've been working with Dan Forcier of Powerhouse Gym in Gaylord, Michigan for a little over 6 months now. We redesigned GaylordsGym.com and provided search engine marketing and it is now the top ranking website for the terms "gym gaylord mi" and "fitness gaylord mi" in Google. Their traffic continues to rise each month and they are taking advantage of it by offering a "lowest price guarantee."
We asked Dan to send over a small testimonial for our website but when we received it, determined it deserved it's own post, so here it is:
June 23, 2010
To Whom This May Concern:
I am absolutely delighted with the graphical design, website build and technical support provided by Harmonie of Ponder Consulting and Web Design. Harmonie has made a great effort to really understand our needs in terms of both look-and-feel and functionality.  She is always ready to advise on design improvements, and review regularly the optimization criteria, and suggest effective measures that have maintained continuous viewing on the principal search engines.
I wanted to take our Powerhouse Gym from "Good" to "Great". It had to start with customer service. To provide a level of service that would be "great" meant getting gym information out to our members and the public in a professional and expeditious manner. I feel our website is the only tool that can do just that!
I am very proud to say "please visit our website all the information is at your finger tips!"
Thus on a business level I am extremely happy with the service, and it's also great that Harmonie is equally satisfying to work with on a personal level!  The end result exceeds my expectations – and is great value for money.  The Powerhouse Gym is going from "Good" to "Great" with Ponder Consulting's help. Thank you for a job well done!
Sincerely,
Dan Forcier
Powerhouse Gym
Thank you Dan, and the feeling is mutual.
Since I designed the website, I have also become a member of Powerhouse Gym. It is one the cleanest and well maintained gyms I've frequented and the equipment is state-of-the-art. If you live in the area and are looking for a fitness center, then stop into Powerhouse and tell them you read about it on Ponder Consulting's website: you never know, you could get a free day pass!